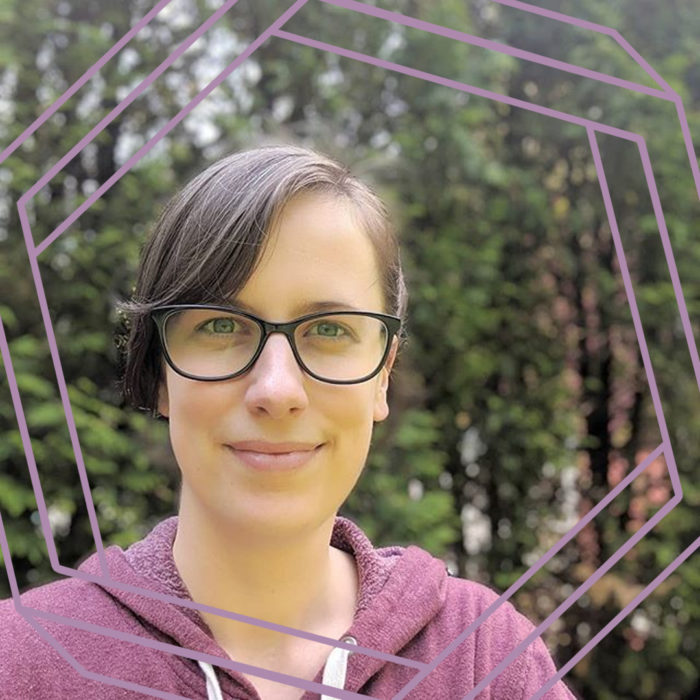 Brianne Benness talks cervical stenosis, small fiber neuropathy, and POTS.
Listen on: Apple Podcasts | Google Podcasts | Spotify | Stitcher | RSS
Transcript
I'm Brianne Benness and this is No End In Sight, a podcast about life with chronic illness.
So holy cripes, this is my 50th episode. When I started looking for folks to talk to in 2017, I wasn't sure if I'd be able to find enough people to make an actual recurring podcast. I didn't know if I'd be able to find people outside my existing network, or if people would want to share something so personal with a stranger and so on. But here we are! Between all the interviews on my calendar right now and the few that I've already recorded, I'm confident that I'll be able to release at least 20 more episodes and probably beyond. I'm so grateful to everyone who's shared their story with me on the podcast, and also on twitter, where so many people talk about such personal things too.
There are a few ways that you can celebrate this 50-episode landmark with me. First off, it would be extremely rad if you'd leave me a review on apple podcasts (formerly known as itunes). You can do that in the podcast app if you're an iphone user, or from itunes on your computer. New reviews absolutely make my heart explode, of course, but they also let other people in your region know what to expect from the show since podcast reviews and ratings are unique to each country.
Another amazing thing you could do to celebrate is share this podcast with other folks who might appreciate it. If there's an episode that really resonated with you, I'd love if you shared the link to that specific show on NoEndInSight.co to social media. Or if you have some spoonie friends who you think would appreciate this podcast, I'd be so grateful if you shared it with them directly.
And the other way that you could celebrate with me is by becoming a supporter on patreon. If you're not familiar with patreon, it's a website that basically makes it easy for you to financially support your favorite creators on a monthly basis. So you could sign up to give $1 or $5 or whatever to No End In Sight each month. I set this up because I need help getting caught up on show transcripts. As you'll here in this episode, I've been off my game since May and I'm only just starting to feel more stable. Show transcripts make the podcast accessible and searchable and all kinds of good things. I am chipping away at them slowly but you could help me get there much quicker. So to learn more about that, just head to patreon.com/noendinsight.
This week's episode is a little different because I'll be talking to my husband Adam about my own health. This is a followup to episode one, where you can hear a very detailed version of my health history before I started this podcast. At the end of that episode, I described myself as somebody recovering from mold illness and tick-borne infections. This year I went back to my PCP to investigate all of the symptoms that stuck around after all of those issues seemed to be mostly resolved, so I though tit would be a good time to share an update.
After the interview, I've also included a live recording of a story I told in September at the event I cofounded in Toronto, Stories We Don't Tell.
Before we start, here's my disclaimer:
This podcast is not intended as a substitute for professional medical advice, diagnosis or treatment. Make sure you talk to your practitioner about any questions or symptoms.
[interview transcript coming soon]
Thank you for listening to episode 50 of No End In Sight!
If you'd like to see a written version of that story, you can find it on Medium under the name That Word: Degenerative.
You can find me on instagram and twitter @bennessb and you can find Adam on instagram and twitter @zawdawg. His twitter is mostly nonsense but his instagram is pretty amazing. He makes furniture and guitars and shares progress pics and videos, as well as the occasional grilled cheese. And of course you can find this show on instagram @no.end.in.sight.pod. As I keep saying, I've been posting each episode as a story but haven't posted to the main feed in a while because I'm so behind on transcripts – as you know. But of course, the whole reason that I've started a patreon account is to help with those transcripts, so I'll go ahead and plug that again: it's patreon.com/noendinsight.
I'm in the middle of another round of interviews for the podcast, so if you've been thinking about sharing your story then now's the time! Just head to noendinsight.co and click Share Your Story. It still says I'm on hiatus, but that's a lie, so if you fill out the interest form then I'll send you an email with booking details. On this show I've talked to a lot of white cis women in their 20s and 30s who don't have children, so I'd particularly love to hear from people with other perspectives.
As usual, don't forget that I have a small Facebook Group called Chronic Hustlers for people living with chronic conditions who are self employed. It's quiet but growing, and you'll even find a few podcast guests in the group.
And finally:
This podcast is supported by my cross stitch company, Digital Artisanal. When I'm up for it, I make simple modern patterns that you'll actually want to hang in your home. I've got some fun fall patterns in the shop, and dozens of very simple icons that you can customize to your heart's delight. I'd love it if you checked us out at digitalartisanal.com.